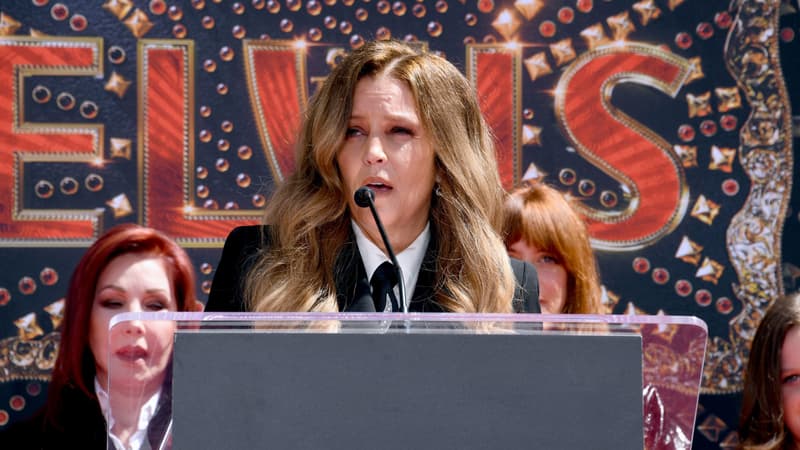 The death of the King's only daughter, present at the Golden Globes two days ago, has plunged his many friends in the entertainment industry into sadness.
Hollywood is crossed by a wave of emotion since the announcement of the death of Lisa Marie Presley this Thursday. The daughter of Elvis Presley, taken to hospital after a cardiac arrest at her home in the suburbs of Los Angeles, was taken away a few hours later at the age of 54. A sudden disappearance that has plunged many celebrities into sadness. Starting with his mother, Priscilla Presley, who pays tribute to him in a press release sent to the magazine People:
"She was the most passionate, strong and loving woman I know," she said, thanking fans for their "love and prayers."
Actor Nicolas Cage, to whom Lisa Marie Presley was married between 2002 and 2004, also expressed his sadness in a press release relayed by the Hollywood Reporter"This news is devastating. Lisa had the best laugh of anyone I've ever met. She lit up every room and I'm heartbroken. I find some comfort in knowing that she's found his son Benjamin."
Lisa Marie had four children from two different husbands: Riley Keough and Benjamin Keough, who killed himself in 2020 at the age of 27, born of her union with her first husband Danny Keough. With Michael Lockwood, from whom she divorced in 2021, she had two daughters, Finley and Harper Lockwood. She was also married to Michael Jackson in the mid-1990s.
In full celebration of the biopic on his father
Singer Pink, visibly close to Lisa Marie Presley, posted a message on Instagram: "This time it hurts me. Lisa Marie, you were unique. Mega-funny, ultra-smart, sensitive, talented, smart, mean, loving, generous, quick to judge but always fair, loyal, and you adored your children."
"My heart breaks for you, your beautiful family and your children," the 'So What?' singer continued. "The world lost a rare gem today. May you rest in peace, my friend."
Lisa Marie Presley's disappearance comes two days after the 2023 Golden Globes ceremony where she went with her mother to support Elvis, a biopic about the King directed by Baz Luhrmann. Tom Hanks, who plays Elvis's manager in the feature film, reacted in a statement posted by his wife Rita Wilson on Instagram:
"Tom and I spent time with the (Presley) family during the promotional tour for the film," she wrote. "Lisa Marie was so honest and direct, vulnerable, she couldn't wait for the movie to come out. She spoke so eloquently about her father, what the movie meant to her, how it celebrated her father. She was accompanied of his beautiful daughters Finley and Harper who made us all laugh."
They also evoke the music of Lisa Marie Presley, herself a singer, who released three albums between 2003 and 2012: "She had a voluptuous, powerful and tender voice."
"A mother should never have to lose a child," they conclude. "Lisa Marie has lost her precious Benjamin, Priscilla has lost her only daughter. It's too much."
friend of all
The proliferation of tributes, from personalities from all walks of life, reflect the popularity of Lisa Marie Presley in Hollywood: Lily Tomlin, Diane Warren, Donatella Versace… Actor John Travolta also salutes his memory:
"Lisa, darling, I'm so sorry. I will miss you, but I know we will meet again. My love and heart goes out to Riley, Priscilla, Harper and Finley."
On the evening of the Golden Globes, Austin Butler, who plays Elvis in the film of the same name, had a few words for Lisa Marie and Priscilla Presley when he collected his trophy for best actor in a dramatic film:
"I would like to thank the Presley family," he said, under the visibly moved gaze of the two interested parties. "Thank you, thank you for opening your hearts, your memories and your home to me. Lisa Marie, Priscilla, I love you forever."